The café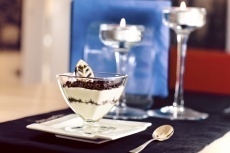 Marvellous desserts, aromatic coffee and tea, and wine and sophisticated drinks for adults. All this in the heart of Solanki, the health resort's spa park. Sounds tempting?
   This exceptional proposition has been prepared especially for those visitors who value comfort and top quality.
   Our desserts leave even the most demanding sweets lovers ravished with delight. All the desserts are freshly-made with the highest quality ingredients. Sultan's Cream, Vienna Royal, Pear in Wine and hot cakes are simply yummy. Try some once and you will love to come back for more. Especially as the café is a place where the air smells of fresh coffee and fragrant tea of carefully selected quality.
   The café is also a perfect place for the connoisseurs of wine and cocktails. The staff, trained by Paweł Białecki, a silver medal winnerat the Central European Sommelier Championship, will be happy to serve you such drinks as Solanki by Night, Kuracjusz na wczasach, Manhattan or PiñaColada.
Our menu – a selection of photographs HERE